CMGE Awarded "Listing Award" by Shenzhen Futian District Party Committee and Futian District People's Government
On February 1, sponsored by Futian District Party Committee and Futian District People's Government and organized by Ping An Group and Futian District Finance Bureau, the "Financial Appreciation of Futian District 2021" was held at the conference hall on the 84th floor of Ping An International Financial Center. The Appreciation aimed to express gratitude to financial institutions, fin-tech companies and relevant industrial associations in Futian District for their outstanding contributions to the local economic development of Futian District. During the event, CMGE, an international IP-oriented game-based ecological company, was awarded "Listing Award" and a thank-you letter by Shenzhen Futian District Party Committee and Futian District People's Government for its efforts, initiative and outstanding contributions to the economic growth of Futian District.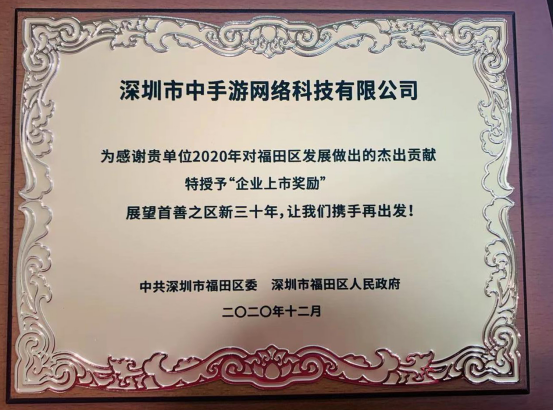 In 2020, COVID-19 broke out unexpectedly and posed a daunting challenge. In addition to donating a total of CNY 1.38 million to Hubei Province in two batches, the senior management of CMGE Group has also carefully studied and developed schemes and measures for COVID-19 prevention and resumption of production while making serious arrangements for preparation of epidemic prevention materials, testing for epidemic prevention and emergency handling. In strict accordance with the CMGE's unified arrangement, all departments paid great attention to the health check of employees, access management, environment and hygiene, and publicity and education so as to ensure the normal implementation of epidemic prevention and production resumption.
Thanks to the cooperation of all departments, CMGE has effectively ensured the normal operation while launching multiple major IP-based games including Xuan Yuan Sword - Origin of the Sword and Condor Heroes Trio.
As a sci-tech cultural company in Futian District, in 2020, CMGE has actively participated in exchange and exhibition events at all levels, helping cultural companies to expand their business and promoting innovation in patterns and formats.
In November 2020, as a member of exhibition group of Shenzhen Futian District, CMGE participated in The 16th China (Shenzhen) International Cultural Industries Fair and displayed a number of quality cultural products in line with new cultural formats and consumption patterns. Multiple IP-based works such as Condor Heroes Trio, Chinese Paladin: Sword and Fairy JY, Xuan Yuan Sword - Origin of the Sword, The World of Legend – Thunder Empire, Martyn Palace, The King of Fighters: All Stars, One Piece: The Voyage, Monster List: Past and Present and Dynasty Warriors: Hegemony and two popular physical derivatives - scale figure of Long Kui "Bloom like a Dream Ver" and gift box of "Weapon Model Collection" based on Chinese Paladin were displayed to the world, showing the style of Chinese game industry with products as the carrier and culture as the content.
In addition, in order to accelerate the development of cultural and financial industry in Futian District and assist Futian District in its application for the establishment of National Culture and Finance Cooperation Demonstration Zone, CGME has played an active role in the Cultural and Creative Industry Investment Fund Alliance initiated by Culture, Radio, Television, Tourism and Sports Bureau of Futian District. With further communication with other members in the Alliance, CGME has achieved diversified cooperation and carried out activities such as training in investment and financing, investment and financing information sharing and project-related roadshows for cultural companies, in a bid to enable effective resource and information complementation and sharing, provide targeted resource sharing services for cultural companies in Futian District and promote the further integration of culture and finance while promising the scale economy and improving the core competitiveness of cultural and creative industry in Futian District.
Furthermore, with its excellent achievements in IP-based games and steady performance in Hong Kong stock market, CMGE was included in the first domestic stock index of cultural and creative industry - the "CNI Xiangmi Lake Cultural and Creativity Index". The index is jointly researched and developed by Futian District People's Government and Shenzhen Securities Information Co., Ltd. Taking listed companies in SZSE and Hong Kong Stock Connect targets included in the Stock Connect as samples, the index covers fields of games, film and television, advertisements, cultural tourism and digital services and selects 100 stocks related to cultural and creative industries with high total market value and good liquidity as the sample stocks. Among those sample stocks, CMGE, Tencent Holdings and Focus Media and other leading listed companies are included.
Despite the severe challenge of the COVID-19, CGME still maintains its good momentum of steady development, with the concern of leaders at all levels in Shenzhen and Futian District, including Chen Qianwen, Vice Chairman of Shenzhen CPPCC, Huang Wei, Deputy Secretary of Futian District Party Committee and District Head and Ye Wenge, Member of the Standing Committee of the District Party Committee and Director of the District Office of the District Party Committee. Those leaders have paid a number of visits to CGME and learned about the epidemic prevention and production resumption conditions as well as difficulties and demands in the business development. Taking Policies for Supporting Companies to List in Futian District, Shenzhen as the starting point, they have provided various support for companies including CGME and created better environment for their development.
In the thank-you letter by Futian District Party Committee and Futian District People's Government, words have shown that, driven by the three engines of Shenzhen-Hong Kong Technological Innovation and Cooperation Zone in Hetao, Xiangmi Lake New Financial Center and Futian Central Park, Futian will be committed to creating a world-class business environment. And CMGE will also take this opportunity to usher in better development in 2021.