CMGE Cooperated with U17.com for Major IP Priority
On December 10, CMGE and U17.com under Alpha Group Co., Ltd. reached a strategic cooperation agreement. For the purpose of making advantages complementary to each other and exchanging resources, both parties further strengthened their priority cooperation rights in their respective advantageous areas on the basis of previous cooperation. After the cooperation, U17.com granted the priority cooperation right to CMGE in terms of the adaptation of major IP-based works including Rakshasa Street, School Shock and Die Now while CMGE granted the priority development and sales right to Alpha regarding categories of figures, clothing, daily necessities and toys.

Prior to this cooperation, CMGE has already closely cooperated with U17.com. The ARPG mobile game Rakshasa Street: Born to be the King, based on the IP of Rakshasa Street, is now under R&D. The IP of Rakshasa Street is full of vitality and very popular. Right now, the comic of Rakshasa Street enjoys over 4.838 billion clicks. On Bilibili, the 1st season of the animation of Rakshasa Street has been played for 380 million times, with followers of about 6.696 million.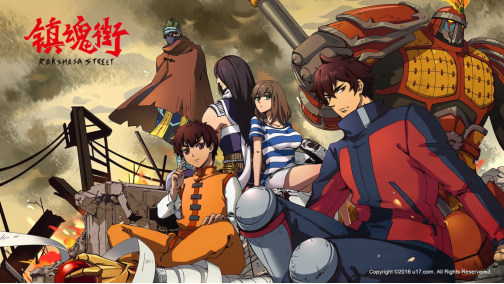 With the joint efforts of both sides, it is expected that Rakshasa Street: Born to be the King will become an IP-based masterpiece with great reputation and can be launched in 2021 based on the popularity of the related comic and animation. In addition to Rakshasa Street: Born to be the King, CMGE and U17.com have also planned to create a new Rakshasa Street-IP-based mobile game and launch the game within two years as the follow-up. Therefore, it can be seen that CMGE attaches great importance to the continuous potential of the IP of Rakshasa Street and determines to cooperate with U17.com in terms of adaptation of quality mobile games in the future. The communication between both sides in terms of adaptation of other major IP-based game is also promising.
As the earliest company engaged in Internet creation, marketing, promotion and commercialization of original comics in China, U17.com has established a complete animation operation industry chain. It has an on-line comic reading platform based on domestic original comics, with 46,000+ on-line works and 30,000+ registered animators. Its major animation IPs, including One Hundred Thousand Bad Jokes, Rakshasa Street, Die Now, School Shock and Tiger & Crane: Story of Demon Hunters have been adapted from comics to cultural derivatives of animation, film, TV dramas and figures.
The strategic cooperation between CMGE, a leading global IP-based game operator and U17.com, on the one hand, aims to further deepen CMGE's ecological strategy for IP-based games and continuous cooperation in terms of adaptation of major Chinese comic IP-based games. On the other hand, the cooperation will give full play to the advantages of Alpha regarding its development of IP-based derivatives and sales network, enriching the categories of CMGE's self-owned IP-based derivatives and attracting more young users who love game and animation.