CMGE Invested in Heyao Network for Vertical 3D MMO
On February 5, CMGE, an international IP-oriented game-based ecological company (00302.HK), announced that it has completed its investment in Shenzhen Heyao Network Technology Co., Ltd (hereinafter referred to as Heyao Network). After that, not only will Heyao Network become one of the important developer of CMGE in terms of CMGE's IP-oriented game-based ecological system, but also Li Wendong, the CEO of Heyao Network, will become one of the giant game producers. At present, the two sides are jointly creating a mobile game featuring oriental fantasy and alien world called Shan Hai Zhi Yi (tentative). With further cooperation of the two sides, CMGE may increase its investment in Heyao Network.
The investment in Heyao Network is an important measure for CMGE to actively promote its strategic layout of IP and game development system, aiming to carry out further exploration of vertical 3D MMORPG market with Heyao Network's teams, give full play to CMGE's advantages in IP-oriented game-based ecology and further maintain CMGE's good momentum of steady development in the fierce market.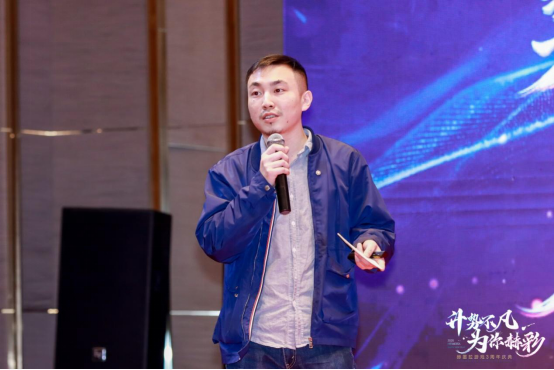 Li Wendong, CEO of Heyao Network
Born out of Hemera, Heyao Network is a R&D company focusing on creating high-quality mobile games. Its CEO, Li Wendong, is the producer of the mobile game Tai Gu Feng Mo Lu and web games of Du Bu Tian Xia and Xian Shen Zhuan and the member of its core team feature game experience of more than 10 years. The company enjoys many successful projects and is experienced in MMORPG development. It launched the 3D MMORPG game Tai Gu Feng Mo LU in 2018, boasting a peak month revenue of CNY 200 million and a total revenue of over CNY 2.6 billion.
Traditional horizontal MMORPG mobile games feature complicated, difficult and repeated cooperation, wasting too much time and making players tired easily. However, the vertical 3D MMORPG mobile games can support incremental and easy operations even with a single hand. In addition, they do not waste too much time and thus become popular among players. Among all vertical 3D MMORPG mobile games, A Sword of Miracle and Re Xue Shen Jian have shown outstanding performance. According to Sensor Tower, the monthly revenue of A Sword of Miracle in Korea and Japan alone has reached about 19 million US dollars (about CNY 130 million) and ranked among top positions in overseas revenue list of China's applications.
At present, Shan Hai Zhi Yi (tentative), the mobile game featuring oriental fantasy and alien world and jointly created by CMGE and Heyao Network, is a game with very stylized art. Based on vertical 3D MMORPG, the mechanisms of multi-thread operation and incremental gameplay are more in line with the demands of current users for lightweight. In terms of game content, the art based on iterative operation and the combination of QTE mechanism and excellent performance can promise enjoyable gaming experience. In the meantime, the CGs and plots in the game can definitely generate an immersive alien world with oriental fantasies. Right now, the game is still under development and is expected to be launched within 2021.
In terms of the investment in Heyao Network, Xiao Jian, CEO of CMGE, said that "by investing in Heyao Network, the IP-oriented game-based ecology system of CMGE can be consolidated, the content supply capacity of CMGE's global distribution business will be enhanced, the layout of CMGE in vertical 3D MMORPG area will be expanded and the lineup of giant game producers of CMGE will be strengthened. Both sides will work together to create high-quality games in terms of the vertical 3D MMORPG category."
In 2020, CMGE has invested a lot in quality game developers such as Love Games led by Cheng Liangqi, the producer of "Junior" series games, EZFun, the developer of Dynasty Warriors: Hegemony and Huanyu Jiuzhou led by Zhang Fumao, the producer of 7.qq.com and qmzg.qq.com. At present, CMGE has invested in over 20 game developers. Through self-research, merger and acquisition, and investment, CMGE has strong market competitiveness in categories including Legend series, card games, ARPG games, Three Kingdoms-based war chess games, PC games, vertical 3D MMORPG games, 3D gunfight games, mahjong games, and has become the industry leader in some vertical categories. In the future, CMGE will continue to deeply work on the vertical categories that have been laid out for major players, and will further explore and create more subdivided categories and themes with differentiated competitiveness.