CMGE Cooperated with Riot for New Trending Funs on League of Legends
On March 23, CMGE, an international IP-oriented game-based ecological company announced its strategic cooperation with Riot Games on the world's top game IP League of Legends (hereinafter referred to as LOL). In the cooperation, CMGE is authorized to develop LOL consumer goods of nearly 100 items in 11 categories. Both parties will follow the consumption demand of Chinese fans and jointly design quality cultural and creative products for new trending funs based on LOL.

It is predicted that, from the second quarter of 2021, the majority of LOL players and fans can enjoy those quality cultural and creative youth-oriented products jointly presented by CMGE and Riot Games via on-line and off-line channels, e-commerce platforms and video websites.
According to both parties, this cooperation can be a good opportunity to create another business example for the IP-oriented cultural and creative consumer goods market. With CMGE's experience in commercial operation of games and Riot's great influence of LOL IP, the two companies believe that the cultural and creative consumer goods based on LOL can certainly bring young people of Gen Z more wonderful experience beyond the game itself.
Data from QuestMobile shows that, as of November 2020, the number of active post-95s and post-00s users of Gen Z has reached 320 million, accounting for 28.1% of mobile netizens. 45% of those netizens are in first-tier, new first-tier and second-tier cities. Featuring higher on-line consumption power and willingness, 74.5% of such netizens enjoy medium- and high-level on-line spending.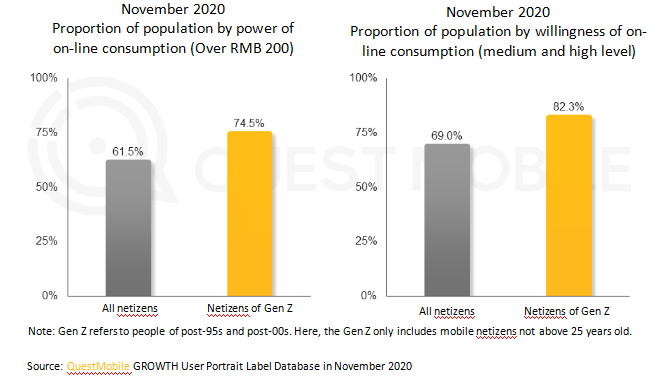 Source: QuestMobile
Just like all netizens, integrated e-commerce is the mainstream shopping channel for the Gen Z. However, the Gen Z clearly prefers shopping for trends and the trading of idle items. They are very active in social networking, video, online shopping, music, group buying and games, highly compatible with all kinds of sales and promotion channels planned by CMGE.
It is reported that, the quality cultural and creative products based on LOL will further focus on the artistic presentation, champion's characteristics and the implication of articles of the world view of LOL IP. In that way, the artistic creations, as unique entities within authorization, can reproduce the elements in the "Universe of League of Legends" and meet the emotional and consumption needs of Gen Z in terms of companionship, hobbies and display.
About CMGE:
CMGE is a leading international IP-oriented game-based ecological company. The company takes IP as its core and games as its foundation to create a highly competitive IP game ecosystem. Through independent R&D and customized development, CMGE aims to provide high-quality IP games for players all over the world. In the meantime, by deepening its own IP operation, CMGE strives to continuously create excellent contents and interactive experience for fans, and build world-class IPs. With its active strategic layout in IP and game R&D systems, the company works on tapping the commercial value of IP licensing and IP derivatives business while promoting new off-line entertainment consumption integrated with IP and innovation, in a bid to form a closed loop of user traffic and commercialization, give full play to IP-oriented cultural consumption and building itself into a cultural brand with global influence.
So far, CMGE has developed over 400 SKU products based on the IP of Chinese Paladin, involving daily necessities, cultural and creative products, 3C digital products, clothing and toys. Those products are available from multiple channels such as animation exhibition, stores featuring trending funs, gift shops, theme shops, Tmall and credit stores. With breakthroughs of products in popularity, revenue and reputation, the company's business model towards young people's cultural consumption turns out to be effective and outstanding.
About Riot Games:
Riot Games was founded in 2006 to develop, publish, and support the most player-focused games in the world. In 2009, Riot Games released its debut title, League of Legends, to worldwide acclaim. Currently, LOL has gone on to be the most-played PC game in the world and a key driver of the explosive growth of esports.
As League enters its second decade, Riot Games is continuing to evolve the game while delivering new experiences to players with Legends of Runeterra and multiple work-in-progress titles. In the meantime, players will have the opportunity to explore the world of Runeterra through multimedia projects across music and comic books.
Founded by Brandon Beck and Marc Merrill, Riot is headquartered in Los Angeles, California, and has 2,500+ Rioters in 20+ offices worldwide.