Condor Heroes Trio Winning Two Google Play Annual Awards
In the annual list announced by Google Play on November 30, Condor Heroes Trio, a mobile game developed by CMGE, is awarded the Best Fighting Game of the Year and Best Tablet PC Game in the Google Play Best of 2021 for Hong Kong and Taiwan, marking the new milestone of the IPs of Condor Trilogy, namely Condor Heroes, The Return of the Condor Heroes and The Heaven Sword and Dragon Saber.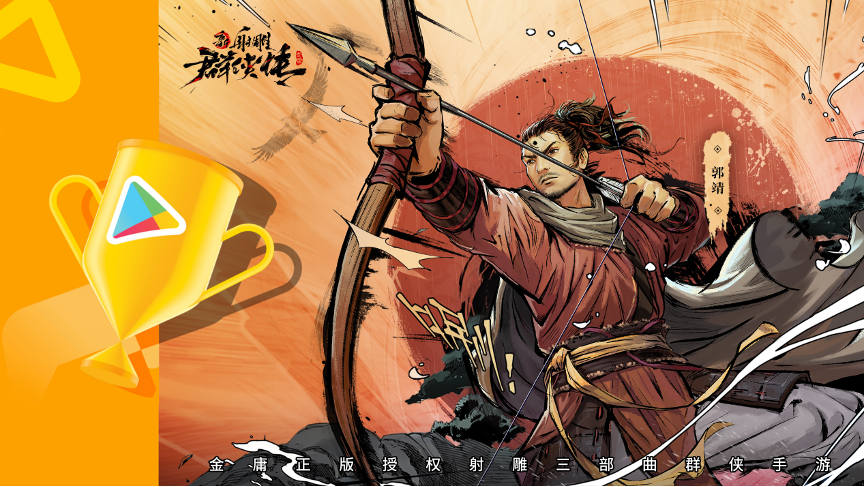 Condor Heroes Trio won the Best Fighting Game of the Year and Best Tablet PC Game in the Google Play Best of 2021 for Hong Kong and Taiwan
Condor Heroes Trio, with insightful game operation and market development, is recognized by Google Play and empowers CMGE in long-term game operation and IP operation.
The game was launched in game markets in Hong Kong, Macao and Taiwan on January 21, 2021. With amazing quality and localized marketing channels, Condor Heroes Trio reflects both "Jin Yong's Martial Arts Element" and the "Condor Trilogy" and stood out among a number of competitors in the markets. After the launch, the game ranked the top of Free Game List in Hong Kong, Macao and Taiwan and also the top of Best Seller List in Hong Kong and Macao.
Such great accomplishment is backed by CMGE's determined distribution and operation. One year has witnessed Condor Heroes Trio's popularity and recognition among players. So far, over 100 characters in the Condor Trilogy have been included in the game in Hong Kong, Macao and Taiwan, showing continuous content creation and improved development.
In the meantime, as part of the operation strategy, a number of cross-border campaigns have been organized to increase exposure. Based on the cultural elements in Hong Kong, Macao and Taiwan, Condor Heroes Trio combines with popular IP of Chinese Paladin and the popular game Dynasty Warriors 8, and popular characters such as Li Xiaoyao and Guan Yu are also included in the game to indicate the spirit of "being chivalrous and faithful".
The key to ensure the long-term operation of a mobile game is to guarantee the reach to local players for a positive user community. As for overseas community construction, customized operation strategies have been earlier developed. Featuring martial arts elements and combination of contents, topics and strategies, the community will meet users' demands and complements the game to ensure a harmony and equal atmosphere.
In September 2021, Condor Heroes Trio was launched in Korea. Facing completely new markets, CMGE and Condor Heroes Trioproject team will work hard to ensure content update and long-term game operation for future game development worldwide.
The success of Condor Heroes Trio reflects CMGE's outstanding accomplishment in the quality and globalization IP-oriented games and can be regarded as valuable reference for outstanding IPs under CMGE in terms of quality game R&D, global distribution, cultural communication and long-term local operation.
In the future, CMGE will push forward its content creation and global development of Condor Heroes Trio and the IPs of Condor Trilogy. Meanwhile, efforts will be made in quality IP development, independent power enhancement and globalization improvement to provide players worldwide with more fantastic and premier IP-oriented games.