CMGE: Social Responsibility Management Should Keep Pace with the Times
On November 24, the "Responsibility for On-line Game - Forum on Healthy Development of On-line Games and Social Responsibility" co-organized by Guangdong Entertainment & Game Industry Association (GEGIA) and 37 Interactive Entertainment is held in China Culture & Creative Industry Conference·Tianhe Summit. Leading research institutes relevant to the topic are invited to discuss with game companies about the establishment and improvement of social responsibility management system. Wang Tao, Vice President of CMGE, attends the event and shares CMGE's experience in social responsibility management.
Aiming to guide game companies to better fulfill their social responsibilities by optimizing game content, emphasizing cultural responsibilities and building healthy game eco-systems, the summit organized a response ceremony for the Corporate Social Responsibility Management System for On-line Game Companies. Through the ceremony, it is hoped that all sectors of society can cooperate to establish a sound social responsibility management system that pushes online game companies to undertake their responsibilities.
With the booming development of online games, developing Chinese game companies pay more attention to their social responsibilities and corporate image as they develop quality games and create values. From public welfare to cultural communication, campaign promotion to rights and interests guarantee, the social responsibilities of game company also vary with the times.
Wang Tao believes that, in terms of social responsibilities, game companies should also focus on more areas including minor health protection and data security, not just the public campaigns. With more social concerns about those points, game companies should take some actions to respond accordingly. Wang Tao also shares CMGE's experience in actions taken for social responsibilities.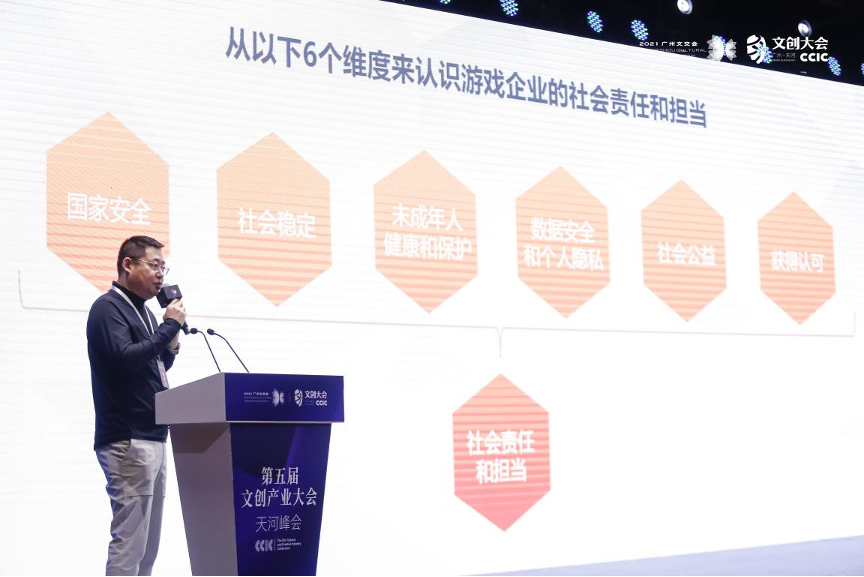 CMGE, as a leading international IP-oriented game-based ecological company, has participated in the development of standards including Vocabulary for Online Games, Age Prompt Standard for Games, Content Self-examination Standard for Game Companies and Standard for Parent Monitoring Platform, making its own contribution to the implementation and promotion of industrial standards. In the meantime, all game products distributed by CMGE have included systems such as real-name authentication, anti-addiction system and age prompt. According to the anti-addiction system, the minor can only access to the online games at 8 p.m. - 9 p.m., on Fridays, Saturdays, Sundays and legal holidays.
In recent years, the focus of services provided by game R&D and distribution companies have shifted from network to cultural contents, which have brought about changes to relevant social responsibilities by those companies as well.
Wang Tao also points out that, companies may also face critical problems on their journey of development, such as political stance regarding sensitive events, guidance of public opinions, recruitment and development of game talents and improvement of employees' sense of accomplishment and belonging. The solutions to those problems can be combined with social responsibilities (or specific projects) - a stone to kill three birds: development of companies, investment in and willingness of resources, and result assessment in terms of cultural security, social stability, data security, personal privacy protection and public welfare campaigns. Besides, it should be considered that an organization, a party branch, for example, needs to be established to integrate such people, resources and projects as a way to ensure constant social responsibility fulfillment.
In addition to social responsibility management, CMGE also focuses on the project of CMGE Dream Library. At present, nine CMGE Dream Libraries have been built and the donation plan of two CMGE Dream Libraries every year is still boosting.
Due to CMGE Dream Library project and its contribution to protection of minor health and development of industrial standards, CMGE has been generally affirmed by authorities and peers in social responsibility fulfillment. In the future, CMGE, based on its development strategy, will make more efforts in cultural security, social stability, minor health and protection, data security and personal privacy, and public welfare campaigns as its action to undertake social responsibilities.