CMGE Teams up with Volcano Engine for Digital Platform
On the morning of December 3, the signing ceremony for strategic cooperation between CMGE and Volcano Engine is held in Shanghai. The cooperation aims to build a strategic eco-system that promises new business based on the digital platform.

Xiao Jian, the Chairman and CEO of CMGE, Yuan Yu, the Partner and Vice President of CMGE, Tan Dai, the General Manager of Volcano Engine and other relevant leaders of both parties witnessed the signing of the strategic cooperation agreement and held in-depth talks on relevant issues.
The strategic cooperation marks the cooperation regarding the further development of fields such as big data algorithm, AI agent and virtual-real integration and the promotion of intelligent business. In that context, the cooperation will innovate CMGE's integrated research and operation, improve user-oriented digital experience and agile operation based on data middleground, so as to ensure efficient business growth in all chains.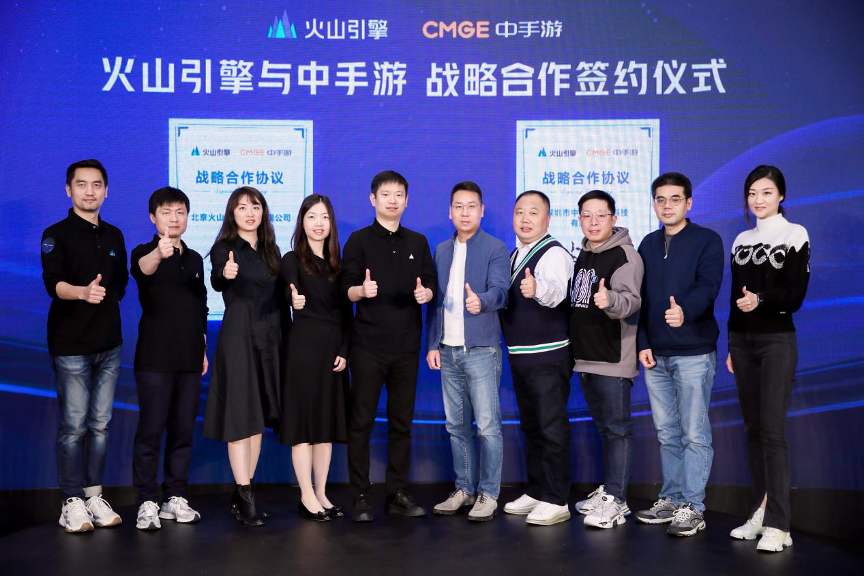 As the corporate-level technical service platform under ByteDance, Volcano Engine is the only brand as the result of ByteDance's high-speed growth for 9 years, its experience with proven digital growth, tools and technologies as well as the method to turn those experience and technologies into services.
It is reported that CMGE has successively cooperated Ocean Engine, Nuverse and Volcano Engine in terms of marketing and promotion, games, technologies and IP-based derivatives, which fully reflects the recognition and support of both sides for their core business value and development potential and implies more and further future cooperations.
In terms of games, One Piece Blood Routes, the 3D action mobile game jointly launched by CMGE and Nuverse, started its official public beta on April 22. Featuring integrated marketing of "IP content" + "gameplay", creative tools such as Tik Tok stickers and challenges, discussion and creation based on the "Distributor's Plan", the game employs quality IP-based derivative contents, game contents and creative contents to enrich its whole ecology. As a result, the game became popular really soon and ranked the first in the Free Game List and the third in the Best Seller List of iOS App Store. It is expected that, in the first half of 2022, another game jointly launched by CMGE and Nuverse, namely The King of Fighters: All Stars, will be available worldwide.
In terms of promotion and advertisement, a number CMGE's products such as The World of Legend – Thunder Empire, Condor Heroes Trio and Soul Land: Advent of the Gods have witnessed remarkable performance under Ocean Engine. The World of Legend – Thunder Empire enjoyed a revenue of over CNY 200 million and stable player retention after its launch. Soul Land: Advent of the Gods however, ranked the top of Free Game List at Mainland China in the first month after its launch in April. As a result of close cooperation, CMGE won the reputation of Most Focused Game Company of the Year by Ocean Engine and other honors. In the future, CMGE will promise deeper cooperation with Ocean Engine in the processes of project establishment, global promotion and continuous operation. In terms of project establishment, Ocean Engine will provide precise data as its support to facilitate CMGE's products creation. In terms of product launch and continuous operation, Ocean Engine will employ live streaming, short video and other means to empower the efficient promotion of CMGE's product. In the meantime, according to the features of the game industry, CMGE and Ocean Engine will cooperate to push forward customized solutions that ensure precision marketing and refined operation, so as to enable significant increase of global traffic efficiency in the fierce market competition.
Focusing on CMGE's rich IP resources, IP-oriented game players and private domain traffic, Volcano Engine will help CMGE to build user group portraits and enable new business cooperations to promise increase of user value and loyalty. With innovative marketing featuring IP contents and gameplay, CMGE will definitely enable brand values and expand increment.
Under the cooperation, CMGE and Volcano Engine will give full play to their respective competitive strengths to create more space for future businesses.