CMGE Invests in EZFun, Developer of Dynasty Warriors: Unleashed to Jointly Focus on Quality Warrior Brands
Today, CMGE (00302.HK), an international IP-oriented mobile game operator, announced that it has completed its investment in Shenzhen EZFun Technology Co., Ltd. (hereinafter referred to as "EZFun"). At present, CMGE and EZFun have closely cooperated in product development. As a result, Dynasty Warriors: Unleashed, an ARPG warrior-based game distributed by Tencent Games and adapted from the IP of Dynasty Warriors 6 by KOEI TECMO, was unveiled at Tencent's new product launch conference on June 27.

Founded in 2014, EZFun has been focusing on the R&D and operation of quality ARPG games. The core team of EZFun is composed of game elites with solid industrial background and over 10 years of experience in the industry. Its members have participated in the R&D of many popular games such as Wefly, Rhythm Master, QQ Xian Xia Zhuan, QQ Huaxia, enjoying rich team management experience, excellent product R&D strength and quality channels and resources. Before the establishment of EZFun, Zhuang Yuan, CEO of EZFun, joined Tencent in 2010, serving as the director of strategic development, the director of new product planning and a game producer. During his tenure, he was responsible for the business and strategic planning of Tencent Games, mobile game planning and R&D of Lightspeed & Quantum Studios Group. He also established and managed the first mobile game R&D team of Tencent Games in Shenzhen. Zhuang Yuan has developed some outstanding mobile games, including Wefly, a game with a revenue of billions of yuan and We Three Kingdoms, a Three Kingdoms-based game granted the highest licensing fee and proportion in the industry, showing his profound strength in R&D. After the establishment of EZFun, the games launched by EZFun, such as Blade Hero, Clash of Immortals and Blade Hero 2 have performed well at home and abroad.
The creation of Dynasty Warriors: Unleashed by CMGE and EZFun is a win-win cooperation. As a warrior-based game scarce in mobile market, Dynasty Warriors: Unleashed has fully reproduced the ultimate combat scenarios of Dynasty Warriors series on PC, providing immersive warrior experience and fighting pleasure for players. While paying tribute to the classic originals, many innovative ways of playing are also incorporated in Dynasty Warriors: Unleashed. Players can summon characters, activate synergies and trigger characters' combos to win the combat. They can also edit creative custom maps, make defense arrangements and set battle scenarios to dominate the whole battlefield. While bringing immersive battlefield experience and warrior-like fighting pleasure, Dynasty Warriors: Unleashed can also support PVE and PVP mechanism to allow players team up with other players or friends. The game also features the base camp system, reproducing scenarios in the Three Kingdoms period for players - developing bases and commanding warriors for more.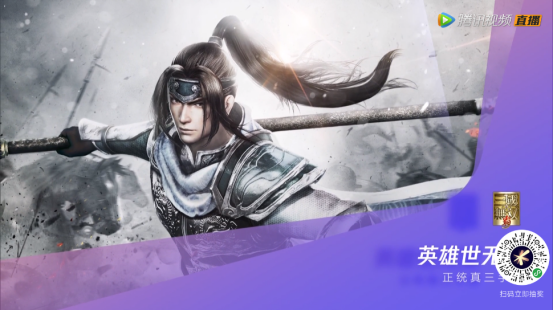 Source: on-line video of Tencent Games annual game conference
The purpose of CMGE investing in EZFun, a company with rich experience in ARPG is to deeply develop ARPG games with EZFun and explore the potential market segment of warrior brands by virtue of CMGE's strength in IP reserve and IP-oriented game ecological system while expand and consolidate the competitiveness of CMGE in hardcore mobile games and other mobile games combining both casual and hardcore element.
In response to the cooperation, Xiao Jian, Chairman and CEO of CMGE, comments that "CMGE is proud to cooperate with EZFun and both sides will be highly integrated in warrior-based games and business since EZFun is a leading warrior-based game developer and the strength its owns in the segment is what CMGE needs in the long run."